It's Time to Consider Converting your Bathtub to a Shower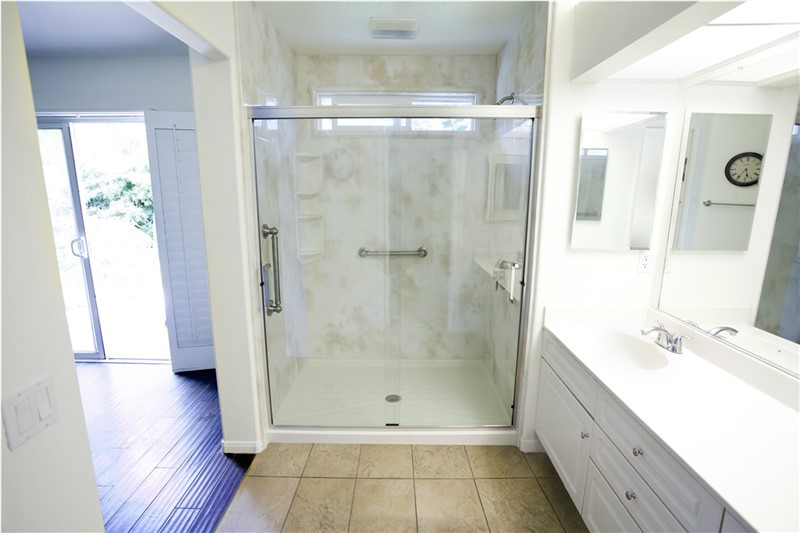 Get the bathroom you've always dreamed of. If you're tired of stepping over the wall of that less-than-functional builders-grade bathtub, it might be time to consider converting your bathtub into a walk-in shower. With a bathtub conversion by Luxury Bath, your remodel doesn't have to be expensive and time-consuming. You get the benefit of a custom styling with premium products and the efficiency of a quick installation in as little as one day. There are so many great things about Luxury Bath tub conversions that it's hard to come up with reasons not to make the switch.
Custom Shower Style Options from Luxury Bath
The remodeling pros at Luxury Home Concepts have completed thousands of successful bathtub-to-shower conversions. Our Los Angeles-area bathroom remodeling company makes it easier than ever before to reimagine your home with your dream shower. And why not? It's a space that you'll use every single day.
Some of the design options that you can take advantage of include:
Etched Substrate Patterns: Get realistic-looking grout lines with an easy-to-clean surface in modern designs like subway, hexagonal, herringbone, and more.
Dozens of Colors: Choose the look that's right for you and even match existing décor with a variety of marbled, textured, tiled, and solid color patterns.
Popular Tile Patterns: Choose from several popular patterns like 4×4, piazza, smooth surface, and subway tile patterns.
Unique Accents: Upgrade your look with wainscot beadboard.
Glass Doors & Enclosures: Choose the right style of doors and enclosures to complete the look of your new shower.
How Our Quick, One-Day Tub-to-Shower Conversions Work
You might be wondering how we can install a premium tub conversion in as little as one day without compromising quality. It's true—we can do it in less time than the other guys! Luxury Bath products are well-known in the remodeling industry for providing quality, efficient options for bathroom remodeling. Luxury Bath products are made from durable acrylic and coated with anti-microbial protection for an easy-to-clean surface that holds up for years to come.
When you're ready to explore your options, we'll schedule a free design consultation and estimate in your home. One of our bathroom remodeling experts will take measurements and help you choose the look that right for your home. Then, your new shower components will be custom fabricated off-site and shipped to your home. Once they arrive, our experienced installers will put everything into place.
The Takeaway on Tub-to-Shower Conversions
Your home is where you spend the most time—and it should be where you feel the most comfortable. If your bathroom isn't doing everything that it can to work for you, it might be time to make a change. Let Luxury Bath help you redesign your home to fit your needs with a top-of-the-line tub-to-shower conversion. Give us a call today to schedule your design consultation and estimate.