Get $1,000 Off One Complete Bathtub or Shower Project
We are offering a limited-time discount of $1,000 off your bathtub or shower project!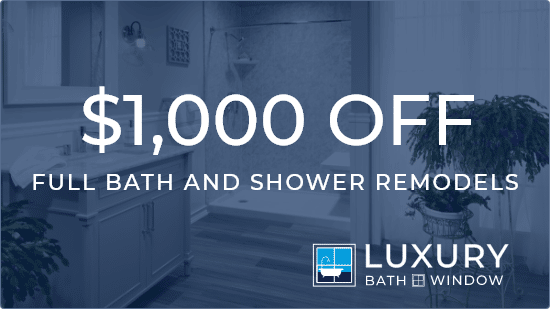 We know that remodeling the bathroom is an expensive project to contemplate. Yet, it's also necessary to keep your space clean, attractive, and convenient to use. Luxury Home Concepts strives to make the process of bathroom remodeling as easy and affordable as possible.
For a limited time, we're offering $1,000 Off on One Complete Bathtub or Shower Project!
Homeowners in the Greater Los Angeles region can get some extra savings on a must-do bathroom remodel with us. Soak in the savings on a swift, hassle-free one-day bath remodel. You can enjoy any number of services with this discount, including:
Tub Installation
Shower Installation
Walk-In Tub Installation
Bath Conversions
When you are ready to begin your bath renovation, turn to Luxury Home Concepts to get started with a complimentary, no-obligation consultation. Don't forget to mention this offer for your additional discount on top of our affordable services. We'll also be happy to create a complimentary cost estimate for your desired remodel.
The process of installing a new shower or bathtub is simple. Just give us a call to set up your appointment with an experienced design specialist. Or fill out our online form to have us contact you about that remodel today!