Signs You Need A Walk-In Tub: A Luxurious and Practical Addition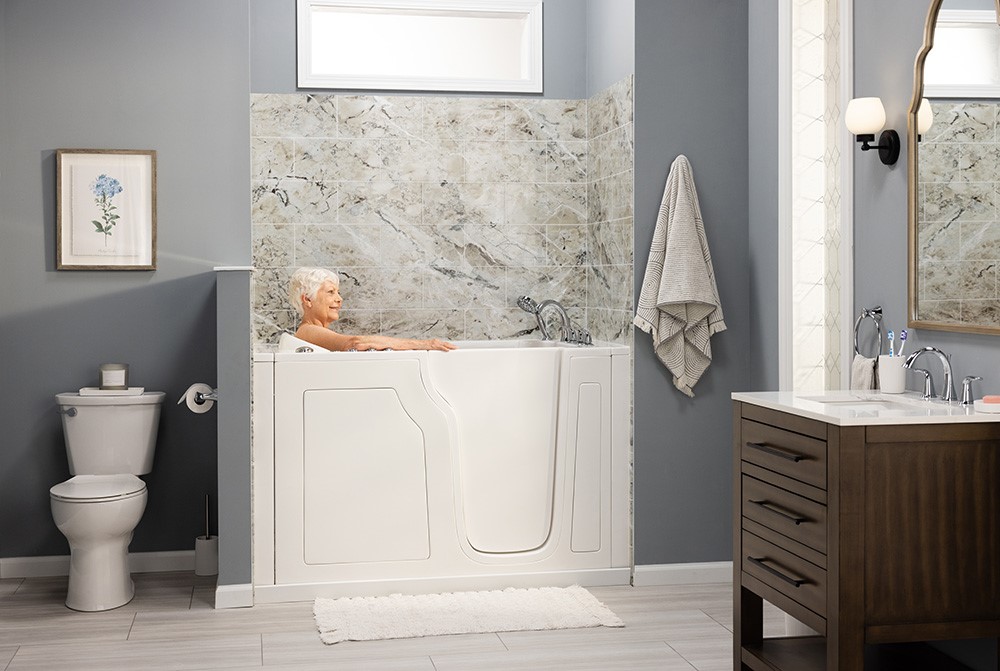 Here at Luxury Home Concepts, we specialize in transforming your home for a haven of elegance and functionality. We understand that sometimes, luxury isn't merely about appearances but includes comfort, accessibility, and enhancing your lifestyle. In today's blog, we're exploring the elegant world of walk-in tubs, a feature that combines luxury with practicality. Here's how you know it's time to invest in one.
Baths: A Timeless Tradition
Baths have been a symbol of relaxation and refinement for centuries. From the grand bathhouses of ancient civilizations to modern spa-like retreats, immersing oneself in a tub has offered both physical and mental benefits. Let's consider the different types of baths and why walk-in tubs might be your perfect match.
Standard Tubs: Traditional and functional, but sometimes lacking in accessibility and luxury features.
Walk-In Tubs: A fusion of elegance, functionality, and accessibility. Perfect for those seeking comfort without compromise.
Signs You Need a Walk-In Tub
Accessibility and Safety Concerns
If getting in and out of a standard tub has become a challenge due to mobility issues or aging, a walk-in tub is a solution. Equipped with a door for easy access and non-slip surfaces, they ensure a safe bathing experience.
Desire for Therapeutic Features
Walk-in tubs can be customized with hydrotherapy jets, chromotherapy lights, and heated backrests, providing a therapeutic bathing experience that can soothe aches and promote well-being.
Space Optimization
A walk-in tub doesn't require a large space. It can be intelligently designed to fit into your existing bathroom layout, making it a practical choice for any home.
Enhancing Home Value
Investing in a walk-in tub can not only enhance your life but add value to your home. It's a feature that signifies thoughtfulness in design and commitment to comfort.
Personal Spa Ambiance
Turn your bathroom into a personal spa with a walk-in tub designed to your specifications. With endless customization options, you will have a unique space that caters to your every whim.
One-Day Bathroom Remodel
At Luxury Home Concepts, our goal is to make your one-day bathroom remodel as easy as possible. No matter the project, you can count on our bathroom remodeling contractors to provide dependable Luxury Bath products, efficient services, and unmatched customer care.
Plus, we protect all our bathroom products with Microban® technology, which will keep your space clean and healthy and make cleaning a breeze. When you choose our bathroom contractors for your bathroom remodel, you can enjoy quick and easy bath remodeling solutions of all kinds:
Bathtub Replacements
Shower Remodels
Accessible Bathing Options
Shower Doors & Enclosures
Bathroom Conversions
Luxury Home Concepts: Your Partner in Elegance
Are these signs resonating with you? If so, it's time to explore the world of walk-in tubs with Luxury Home Concepts. With our team's expertise and your vision, we can craft a bathroom that transcends ordinary functionality and enters the realm of extraordinary luxury.
At Luxury Home Concepts, we believe in tailored solutions, innovative designs, and unparalleled quality. We invite you to contact us at (855) 505-1718 or visit our website to schedule a personalized consultation.
Let us transform your bathroom into a sanctuary where luxury meets practicality. Let's create your dream walk-in tub together, a feature that will enrich your life for years to come.